Edit Post
.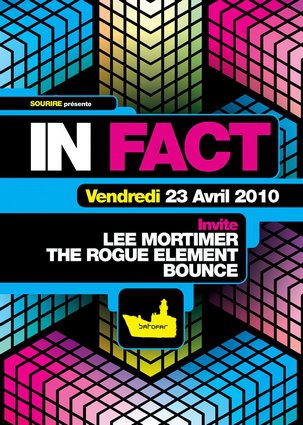 Rendez-vous a Paris au Batofar pour cette soirée
IN FACT
, organisee par le collectif Sourire :)
Le Dj-Prodcteur
LEE MORTIMER
est l'un de ceux qui font vivre et évoluer la scène Bass-Line et Electro anglaise. Patron du Label
WEARHOUSE
, véritable réservoir de nouveaux talents comme Zodiac Cartel, Edu K et Gtronic, il enchaîne les tracks et ne cesse d'être propulser sur le devant de la scène internationale.
Le british
THE ROGUE ELEMENT
est un des poids lourd Electro-Break les plus connus sur la planète. Il est l'auteur des 2 albums "Lumina" et "Rogue Rock", succès mondiaux incontestables sur le label
Exceptionnal Records, avec les hits dévastateurs "Hive" et Escalation" !!THE ROGUE ELEMENT forme aussi avec Tom Real le duo londonien DISCO OF DOOM signé sur SKINT (Fatboyslim), Coco Machete (Fukkk Offf), ou encore Passenger records.
Autre invité, BOUNCE, Dj survolté à la sélection constamment aiguisée, pionnier de l'Electro-Break dans le Sud de la France depuis 2002 et fondateur du collectif Toulousain MAD aux cotés de Pro7, Dilemn...
On le retrouve tous les vendredis aux commandes du "MAD SHOW", la seule émission "Made in France" diffusée sur la radio anglaise NSB et élue "Radio Break la plus écoutée dans le monde" aux Breakspoll Awards depuis trois années consécutives. En 2009, BOUNCE a partagé la scène avec de grands noms internationaux tels que : Hostage, Dirtyphonics, Spor, Teenage Bad Girl, Waxdolls, Don Rimini...
Alors ne ratez pas ces figures emblématiques de la Scène Electro londonienne et toulousaine and KEEP THE SMILE !!

Libellés :
LE BATOFAR
,
LEE MORTIMER
,
PEYO
,
THE ROGUE ELEMENT
# Parties # Events # Clubs #